Downtown Gaps
All gaps found and recorded by Sulig.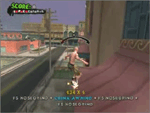 Gaps List
Hop On!
Car Hop
China Awning
Chinatown Sign
Electric Wire!
Pillar
Dumpster 2 Loading!
Loading 2 Dumpster!
Dumpster 2 Fence!
Moca 2 Pool
Angel Goin Down
Fence 2 Fence!
Loading 2 Fence!
Bowl 2 Edge
Fence 2 Loading!
Loading Edge!
Over The Fountain!
Qp 2 Edge
Pipe A Chuy
Pool 2 Moca
Angel Goin Up!
Over The Hut
Chinese Qp Transfer
Fountain Manual
Freeway Flyer
Low 2 Medium
Medium 2 High
Around The Metro
Big Blow Transfer
Chinese Air Transfer!
La Sala Air Transfer!
Low 2 High
Manual The Dumpster!
Awning 2 Wire!
Freeway Bank!
Underground Bank Transfer
Wire 2 Awning!
Tunnel Transfer
Pyramid Drop!
Big Lip!
Overpass Air!