Airport Gaps
All gaps found and recorded by Sulig.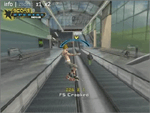 Gaps List
Claim Hop
Heliport Baggage
Rail Hop
Walkway Hop
Draining The Vein
Droppin' Science
Escalatin' The Situation
Gate Hop
Illuminatin'
Last High Light!
Light Hop!
Light Pop!
Lighten Up!
Local Call
Mulin'
Musical Chairs
O The S
Off The Couch
S Look Out!!
Spiral Stairs North
Spiral Stairs South
Spotted Bags
Takin' The High Road
Through The Pad!
Walkway Ride1!
Walkway Ride2!
X-ray
Flying High In The Sky
The Hard Way Up!
Economy Class Lip
Gate Transfer!
Business Class Lip
Start To Finish!!!
Hard Way Is Pretty Obvious
Helicopter Hop!
Manual The Slope!