Venice Gaps
All gaps found and recorded by Sulig.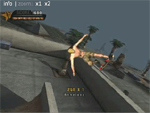 Gaps List
Up!
Seaside Rail
Shorty PLanter Pop
Tabletop
Cake Transfer
Canyon Jump
He Could Go...
Ledge 9 Set
The Venice Ledge
Up!!
Wee Lil' Roof Gap
West Side Transfer
10 Point Landing!
All The Way...
And Away!!!
Bench Trippin'
Big Double 5 Set
Ledge 2 Ledge
Lil' Vent Gap
Muska's Gap
Nice Mid Size Roof Gap
Planter Pop
Roof 2 Ramp
VB! Ledge Transfer
VB! Pit Transfer
Candy Cane Manual
Ramp 2 Roof
Uphill Canyon Jump
Vent 2 Roof Gap
Big Vent Gap
Fatty Transfer
High Wire!
Huge Ramp 2 Roof
Roof 2 Ramp
Massive 20 Set
Sick Roof Gap!
TOUCHDOWN!
VB! Skinny Transfer
VB! Huge Transfer!!!
Round The Horn!!!